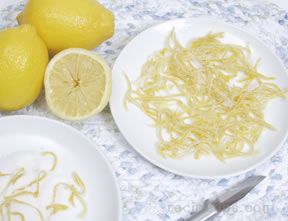 Directions
Wash lemons thoroughly. Trim zest from lemons using a vegetable peeler. Cut wide strips, being careful not to cut into the white pith layer below. Cut zest strips lengthwise to create thin julienne strips.
Place julienne strips in a small sauce pan and cover with cold water. Cook over medium heat until the water comes to a simmer. Continue to simmer for 6 minutes.
Remove from heat, drain strips and then return them to the sauce pan. Add water and sugar to the lemon strips in the sauce pan. Bring the mixture to a simmer. Continue to cook over low heat until the lemon strips turn translucent. The water and sugar should be starting to thicken. Cooking time will be approximately 10 to 15 minutes.
When done cooking, remove strips from the pan and spread out on a sheet of wax paper. Separate the strips on the wax paper so they are not in clumps.
Once they have cooled slightly, roll in sugar until they are well coated.
Prep Time: 45 minutes
Cook Time: 45 minutes
Servings: 2


Ingredients
-
2 lemons
-
1/3 cup water
-
1/3 cup sugar
-
sugar to coat zest strips