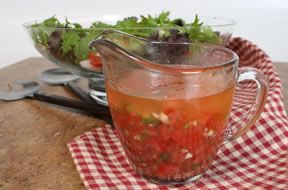 Directions
Add prepared tomatoes, parsley, basil and garlic to a medium sized bowl.
In a small bowl, whisk together lemon juice and oil. Add lemon juice and oil mixture to the tomato mixture and whisk together. Salt and pepper to taste.
Cover and refrigerate a minimum of 30 minutes.
Whisk again before serving.
Prep Time: 10 minutes
Container: medium sized bowl
Servings: 6


Ingredients
-
4 vine ripened tomatoes (Roma or other variety), seeded and finely chopped
-
2 tablespoons chopped fresh parsley
-
1 tablespoon chopped fresh basil
-
1 clove garlic, minced
-
1/4 cup fresh lemon juice (1 lemon)
-
3/4 cup canola oil
-
salt and pepper to taste