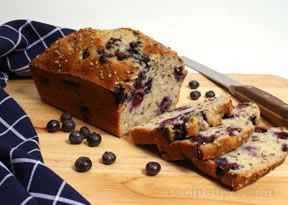 Directions
Prepare loaf pan(s) by greasing and flouring. Preheat oven to 350° F.
In a mixing bowl, add the flour, sugar, baking powder, salt and baking soda. Stir until well mixed and then make a well in the center. Set these ingredients aside.
In a small mixing bowl, add the egg and beat slightly. Then add the milk, oil, and vanilla. Beat on low until ingredients are well blended.
Pour the liquid ingredients into the well of the dry ingredients. Begin to stir the outer edge of dry ingredients into the center of liquid ingredients. Stir only until the dry ingredients are moistened.
Add and fold in the lemon zest and pecans. Save about 1 to 1 1/2 teaspoons of pecans to sprinkle on top of the loaf before baking. Carefully fold in blueberries just until evenly distributed to avoid berries bleeding throughout batter. If using frozen blueberries, fold in while they are still frozen.
Pour batter into prepared loaf pan(s). Lightly press evenly into pan(s) and then sprinkle the top with reserved pecans.
Place the bread in the preheated oven. If baking larger single loaf, bake for 60 to 70 minutes. If baking two smaller loaves, bake for 40 to 50 minutes. Check for doneness by inserting a toothpick into center of the loaf. Toothpick should come out clean when bread is done.
When done, remove from the oven and place on a rack to cool. Cool completely before removing from pan. Slice to serve or place in a sealable plastic bag to store until ready to serve.
Prep Time: 1 hour
Cook Time: 1 hour
Container: 9
Servings: 16
Serving Size: 1 slice


Ingredients
-
3 cups flour
-
1 cup sugar
-
1 tablespoon baking powder
-
1/2 teaspoon salt
-
1/4 teaspoon baking soda
-
1 egg
-
1 2/3 cups milk
-
1/4 cup vegetable oil
-
1 1/2 teaspoons vanilla
-
1 teaspoon finely grated lemon zest
-
1/2 cup finely chopped pecans
-
1 1/2 cups blueberries, fresh or frozen