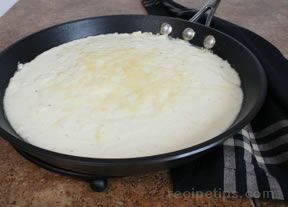 Directions
Over medium heat, melt butter in a small sauce pan. Add flour, whisking until smooth.
Add warm half & half (or cream) and continue to whisk over medium heat for 3 to 4 minutes or until thick and bubbling.
Remove from heat. Immediately add grated cheese(s) and season to taste.
Prep Time: 1 minute
Cook Time: 5 minutes


Ingredients
-
1 cup half & half or cream, warmed
-
2 tablespoons butter
-
2 tablespoons flour
-
salt & pepper to taste
-
1/4 cup Swiss and/or Parmessan cheese (or other hard cheeses of your choice), finely grated