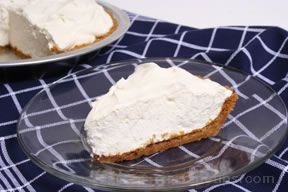 Directions
For crust, preheat oven to 350° F: Combine crushed graham crackers, sugar and butter. Bake in oven for 6 to 7 minutes. Cool completely.
For cheesecake:
Beat cream cheese and sugar together until smooth.
Add sour cream and vanilla. Beat until mixed well.
Add Cool Whip and beat on low until well blended. Do not overbeat.
Pour into cooled crust and refrigerate until well chilled.
Prep Time: 45 minutes
Container: 9 inch pie plate, dish or tin
Servings: 8
Serving Size: 1 slice


Ingredients
-
18 graham cracker squares, crushed
-
1/4 cup sugar
-
1/3 cup butter, melted
-
8 ounces cream cheese, room temperature
-
1/2 cup sugar
-
1 cup sour cream
-
2 teaspoons vanilla
-
8 ounces Cool Whip