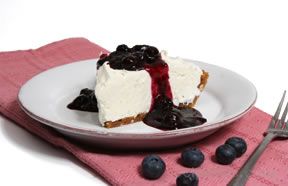 Directions
CRUST:
Crush graham crackers into crumbs. Add sugar and butter/margarine until evenly mixed.
Bake in preheated 350° F oven for 6 to 7 minutes. Remove from oven and allow to cool completely before filling.
CHEESECAKE:
Beat cream cheese and sugar together until smooth. Add sour cream and vanilla and beat until mixed well. Add Cool Whip and beat on low until well blended. Do not over beat.
Pour into cooled crust and refrigerate until well chilled.
Serve with the fresh blueberry topping.
TOPPING:
Check blueberries for moldy, soft or blemished berries and discard any that are bad. Gently rinse with cold water and allow them to drain well. Place blueberries in a saucepan.
In a small bowl, mix the cornstarch, lemon juice and water together and stir until all the cornstarch is dissolved. Add this mixture to the blueberries in the saucepan.
Place over medium heat and cook until sauce thickens and is translucent. At the end of the cooking time, add half of the sugar. Taste the sauce, and if desired, add the rest of the sugar. Cook until sugar is dissolved.
Allow topping to cool and then serve over the cheesecake.
Prep Time: 1 hour
Cook Time: 30 minutes
Container: 9 inch pie plate, tin or dish
Servings: 8
Serving Size: 1 slice


Ingredients
-
CHEESECAKE:
-
8 ounces cream cheese, room temperature
-
1/2 cup sugar
-
1 cup sour cream
-
2 teaspoons vanilla
-
8 ounces Cool Whip
-
CRUST:
-
18 graham cracker squares
-
1/4 cup sugar
-
1/3 cup butter or margarine, melted
-
TOPPING:
-
2 1/2 cups fresh blueberries
-
1 tablespoon cornstarch
-
1 1/2 teaspoons lemon juice
-
1/8 cup water
-
1/4 cup sugar (start by adding half of the sugar, add remaining to taste)