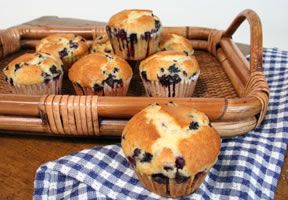 Directions
Preheat oven to 400º F.
In a mixing bowl, stir together dry ingredients.
Combine beaten egg, oil and milk, and then add to dry ingredients until just moistened.
Put foil liners in muffin tin and divide batter evenly, filling each liner approximately 1/2 full (reserve approximately 1/2 cup of batter). Spoon blueberries on top and gently stir in each muffin. Distribute remaining 1/2 cup of batter among the muffins, drizzling over top.
Bake approximately 20-25 minutes.
Prep Time: 10 minutes
Cook Time: 25 minutes
Container: Muffin tin
Servings: 8
Serving Size: 1 each


Ingredients
-
1 1/2 cups all purpose flour
-
3/4 cup white sugar
-
2 teaspoons baking powder
-
1 egg, beaten
-
1/4 cup canola oil
-
1/2 cup milk
-
1/2 cup fresh wild blueberries (or domestic)