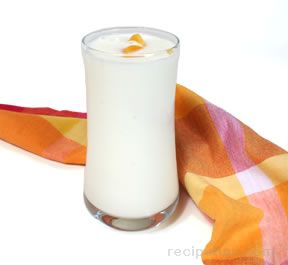 Directions
Beat yogurt to a smooth consistency.
Reserve 4 slices of fruit for garnishing and then puree canned fruit (including the juice)Combine the fruit puree with the yogurt. If desired, add sugar and mix well.
Chill mixture before serving. Crushed ice can also be added to keep the drink cool.
Garnish each glass with a piece of fruit before serving.
*Variations of Lassi can be created by using other fruits such as mangos, jackfruit, or lychees.
Prep Time: 10 minutes
Servings: 4


Ingredients
-
2 cups plain yogurt
-
24 ounces canned peaches*
-
1/2 cup white sugar (optional)
-
crushed ice (optional)