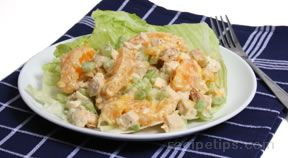 Directions
Peel oranges, remove pith, separate into individual segments, and place in a bowl large enough to hold all of the ingredients. Add the cubed chicken breast. Dice celery and add to the oranges and chicken.
In a small bowl, combine the mayonnaise, curry powder, salt, and pepper. Stir until mixed thoroughly and then add to the other ingredients. Gently stir until the oranges, chicken and celery are evenly coated with the mayonnaise mixture.
Refrigerate until chilled and then serve on lettuce leaves.
Prep Time: 45 minutes
Cook Time: 15 minutes
Servings: 6


Ingredients
-
3 navel oranges
-
2 1/4 cups cubed cooked chicken breast (approx. 3/4 to 1 lb.)
-
3 ribs of celery, diced
-
1/2 cup light mayonnaise
-
1/8 teaspoon curry powder (optional)
-
1/2 teaspoon salt
-
pinch pepper (add to taste)