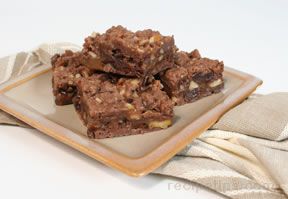 Directions
Preheat oven to 350º F.
In a large bowl, combine evaporated milk, melted butter, German chocolate cake mix, and chopped nuts. Stir with a spoon to form a doughy mixture.
Grease cake pan and press 1/2 of the dough into bottom of pan. Bake for 6 minutes.
Remove pan from oven and immediately sprinkle chocolate chips over baked dough. Pour caramel syrup over the top of the chocolate chips and crumble the remining 1/2 of uncooked cake dough over the caramel topping.
Bake for 18 minutes more. Let cool completely before cutting. It is best to refrigerate the entire pan of bars to keep it cool before serving so that the caramel doesn't become runny at room temperature.
Prep Time: 15 minutes
Cook Time: 25 minutes
Container: 9 x 13 baking pan
Servings: 24


Ingredients
-
18 ounces German chocolate cake mix (boxed mix)
-
1/3 cup evaporated milk (not sweetened condensed)
-
3/4 cup butter melted
-
1 cup nuts chopped (walnuts or pecans)
-
1 cup chocolate chips
-
14 ounces caramel topping - the thicker the texture the better