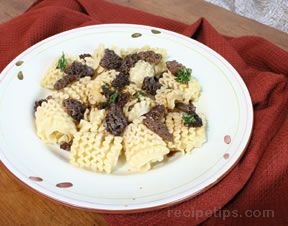 Directions
Place dried mushrooms in a 2 cup bowl filled with warm water. Let stand for approximately 45 minutes. Remove morels. Strain liquid through a fine mesh strainer, cheese cloth, or loosely woven cloth to remove any grit remaining from the mushrooms. Reserve the liquid.
Melt butter in a large pan over medium heat. Sauté mushrooms, onions, parsley, and garlic until mushrooms begin to brown (approximately 10 to 15 minutes). Stir in liquid and season to taste.
Pour over freshly cooked pasta and garnish with cheese if desired.
Prep Time: 45 minutes
Cook Time: 15 minutes
Servings: 4


Ingredients
-
3 tablespoons butter or margarine
-
1/2 cup stock from rehydrating mushrooms (more if needed)
-
1 tablespoon garlic, chopped fine
-
1 tablespoon green onion, chopped fine
-
2 tablespoons fresh parsley, chopped
-
2 ounces dried morel mushrooms
-
salt to taste
-
pepper to taste
-
grated cheese to garnish