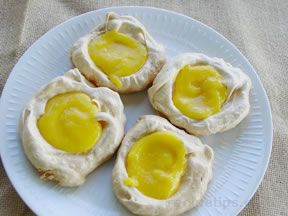 Directions
To make meringuesPreheat oven to 250° F. Line a large baking sheet--or two small ones--with parchment paper or foil. To ensure success with the meringues, have all ingredients at room temperature and make sure all containers or utensils are free of any trace of fat or oil.
Separate eggs and beat the whites (preferably with an electric mixer) on medium until soft peaks form. Sprinkle on cream of tartar, increase speed to high, and add sugar, a tablespoonful or so at a time. Continue to beat until whites form stiff peaks. Fold in 2 teaspoons lemon zest.
Using approximately 1/8 of the mixture for each, make 8 mounds on the prepared baking sheet. Spread each out to 3 to 4 inches, making a wide shallow depression in the center. Bake about 1 1/2 hours, until firm.
To make the filling:
In a saucepan, mix egg yolks, sugar and a pinch of salt; whisk until light colored. Add lemon juice, butter and 1 teaspoon lemon zest. Cook over medium-low heat, stirring constantly, until eggs are cooked and mixture thickens, about 10 minutes. Cool.
Assemble just before serving: spread several tablespoonsful of lemon filling in each meringue. Any left-over filling is good on ice cream, toast, etc.
Container: baking sheets
Servings: 4


Ingredients
-
Meringues:
-
3 large eggs, whites only (save yolks for filling)
-
1/2 teaspoon cream of tartar
-
3/4 cup sugar
-
2 teaspoons lemon zest, chopped fine
-
Filling:
-
3 egg yolks
-
1/2 cup sugar
-
1 pinch salt
-
1/2 cup lemon juice (about 2 medium lemons)
-
6 tablespoons butter
-
1 teaspoon lemon zest, chopped fine