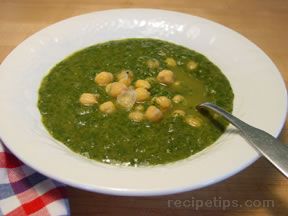 Directions
Using prepared ingredients--frozen spinach, prepared stock and canned garbanzo beans-- makes this soup easy to prepare, but any quick-cooking greens (Swiss chard, beet greens, sorrel) and meaty beans (limas, cannnellini, butter beans) will work as well.
In a large pot, heat oil and cook onion and garlic (and jalapeno, if using) over low heat until soft and aromatic (about 10 minutes).
Meanwhile, rinse and chop the spinach. When onion is soft, add spinach, stock, pepper, soy sauce, lemon zest and all but 1/2 cup of the beans, raise the heat to medium-high and cook until the spinach has completely wilted (about 5 minutes).
Puree, preferably with a hand-held blender right in the cooking pot. If using a conventional blender or food processer, work in batches to prevent splattering the hot liquid.
Taste for seasoning. Serve hot, garnished with reserved garbanzo beans.
Servings: 4


Ingredients
-
2 olive oil
-
6 garlic, chopped (use more or fewer, as preferred)
-
1 onion, chopped
-
1 jalapeno pepper, chopped (optional)
-
10 spinach, fresh or frozen
-
1 chicken stock, vegetable stock or water
-
1 15 ounce can garbanzo beans, or 2/3 cup dried beans, cooked
-
2 soy sauce
-
1 cracked or coarsely ground peppercorns, or to taste
-
1 lemon zest
-
salt, if needed