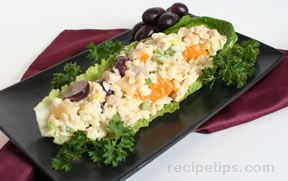 Directions
In a medium container, combine turkey or chicken that has been cut into chunks with orange juice, vinegar and salt. Cover and refrigerate overnight.
When ready to serve, cut grapes and pineapple chunks in half.
Combine all ingredients in a large bowl, tossing lightly.
Serve on a lettuce leaf, such as romaine, and garnish with sliced almonds, if desired. Recipe doubles and triples easily.
Prep Time: 30 minutes
Cook Time: 0 minutes
Servings: 12


Ingredients
-
4 cups to 5 cups turkey, cooked and cut into bite size pieces
-
2 tablespoons canola oil
-
3 tablespoons orange juice
-
2 tablespoons vinegar
-
1/2 teaspoon salt
-
3 cups to 4 cups orzo, cooked and drained
-
1 1/2 cups seedless red grapes
-
1 1/2 cups celery, diced
-
1 green pepper, diced
-
1/4 cup sweet onion, diced (or green onions)
-
20 ounces pineapple chunks, drained
-
11 ounces mandarine oranges, drained
-
1 cup sliced almonds or nut of your choice