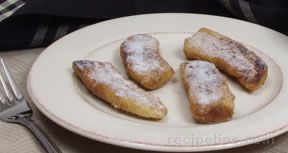 Directions
Be sure bananas are not overripe. Prepare bananas by peeling, cutting in half lengthwise and then cutting in half crosswise to form quartered sections.
In a small bowl, mix the flour and cinnamon. Stir until well blended and then coat banana sections with this mixture.
Heat 2 tablespoons of butter in the bottom of a skillet over medium heat until sizzling.
Place the floured banana sections in the hot butter and cook until browned on each side. Carefully turn once only.
Remove from the skillet when browned on each side and sprinkle with a little sugar. Serve while warm.
Prep Time: 10 minutes
Cook Time: 15 minutes
Servings: 4


Ingredients
-
4 bananas
-
1/4 cup flour
-
1 teaspoon cinnamon
-
2 tablespoons butter or margarine
-
sugar