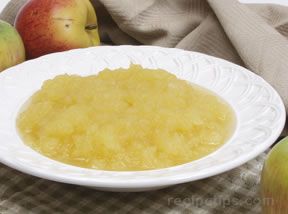 Directions
Peel apples and cut into quarters. Remove the cores and then cut the apples into thick slices. Place slices immediately in water with lemon juice to prevent browning. Soak for 5 or 10 minutes, do not over soak.
Add cold water to a heavy 2-quart saucepan. Drain slices and add them to the saucepan. Bring apples and water to a boil over medium heat. Cover apples and reduce heat to low. For chunky sauce simmer apples for 8 to 10 minutes. For smoother applesauce, simmer for 12 to 15 minutes.
Add the sugar during the last 2 or 3 minutes of cooking time. Stir sugar into the sauce and finish cooking to desired consistency.
The applesauce can be served warm or chilled. Before storing in the refrigerator, allow the applesauce to cool and then place in a sealed container.
Prep Time: 45 minutes
Cook Time: 15 minutes
Servings: 6


Ingredients
-
6 Golden Delicious apples (or any good cooking apple, such as Braeburn, Fuji, Jonathan, or McIntosh
-
1/2 cup cold water
-
1/2 cup sugar