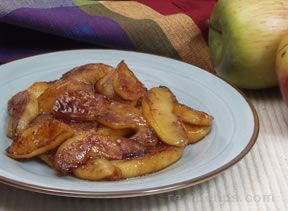 Directions
Peel the apples and cut into quarters. Remove the cores and cut quarters into 1/2" thick slices.
Place the slices in a bowl of cold lemon water to prevent browning. Soak for 5 or 10 minutes and then drain the apples and pat them dry with a paper towel.
In a large skillet, heat the butter until it is bubbling.
Add the apple slices to the skillet and continue to cook over medium high heat for approximately 5 minutes or until tender crisp and beginning to brown. Turn several times to brown evenly.
Add the brown sugar and continue to cook until sugar has melted and started to caramelize.
Apple slices should be tender. Serve as a side dish while still warm.
Prep Time: 30 minutes
Cook Time: 15 minutes
Servings: 4


Ingredients
-
4 Jonagold Apples (or any other good cooking apple, such as Braeburn or Granny Smith)
-
2 tablespoons butter or margarine
-
4 tablespoons brown sugar