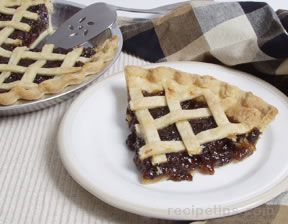 Directions
PIE CRUST: See the double pie crust recipe for instructions on preparing the pie crust. Follow the double pie crust recipe through placing the bottom crust in the pie plate. Trim so there is approximately 1/2 inch overhang around the edge of the pie plate. Refrigerate the pie crust for the top until ready to use.
FILLING: Place the filing in the bottom crust and spread out evenly.
LATTICE TOP CRUST: Roll out the top crust and cut into ½ inch strips. Place approximately 6 strips across the top of the filling. To weave the cross strips into the first 6 strips, fold every other one about half ways back on the pie. Place a strip across the pieces that are not folded back and then unfold the folded strips.
Fold back the strips that were left unfolded before and place another strip across the strips that are not folded back. Unfold the strips and continue on in this manner, alternating the folded strips. Repeat the same procedure on the other half of the pie.
Lift each strip and moisten the edge of the crust in that area with water and then press the strip back down to seal it at the edge. When the strips are all placed across the filling, trim the ends 1/8 inch shorter than the overhang of the bottom crust.
Moisten the entire edge of the crust and then turn the overhang from the bottom crust up over the ends of the strips so the edge of the crust is flush with the edge of the pie plate. Seal the bottom crust and strips by fluting the edges in a desired manner.
Place the pie in an oven preheated to 375°F and bake for 45 minutes or until the crust is golden brown.
Prep Time: 45 minutes
Cook Time: 45 minutes
Container: 9-inch pie plate
Servings: 6


Ingredients
-
PIE CRUST:
-
2 1/4 cups all-purpose flour
-
1/2 teaspoon salt
-
1/4 cup shortening (chilled)
-
1/2 cup cold butter or margarine
-
Ice water (6 to 8 tablespoons)
-
FILLING:
-
1 jar of mincemeat pie filling