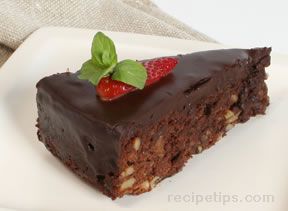 Directions
Cream butter and sugar together in a large mixing bowl. Beat in corn syrup and vanilla, add eggs one at a time while beating.
In a smaller bowl, combine flour, cocoa, and salt. Add batter mixture along with milk--beat on low speed until combined completely. Stir in chopped nuts.
Coat entire inside of spring-form pan with cooking spray. Pour into prepared pan and baked at 325º for 60 minutes or until cake tester comes out clean (one inch from outside of pan).
Remove from oven and cool on wire rack.
Chocolate Topping: in a small sauce pan, bring whipping cream almost to a boil. Remove from heat and immediately stir in choppped chocolate until melted.
Release sides of spring-form pan and place pie on serving plate.
Spread chocolate topping on top and down the sides. Cut in about 12 wedges and garnish as desired.
Refrigerate leftovers.
Tip: The pie will cut more easily, if it is made a day ahead and refrigerated.
Prep Time: 20 minutes
Cook Time: 1 hour
Container: 9-10
Servings: 12


Ingredients
-
2/3 cup butter, unsalted
-
1 1/4 cups granulated sugar
-
1/2 cup corn syrup (light)
-
1 teaspoon vanilla
-
2 large eggs
-
1 1/4 cups all-purpose flour
-
1/2 cup baking cocoa
-
2 tablespoons instant expresso powder
-
1/2 teaspoon salt
-
3 tablespoons milk
-
2 cups nuts- chopped (pecans, walnuts or almonds)
-
plus extra for garnish if desired
-
8 ounces semi-sweet chocolate (8 squares) chopped
-
8 ounces heavy whipping cream
-
garnishs that can be used include:
-
ice cream, fresh fruit, nuts, whipped topping