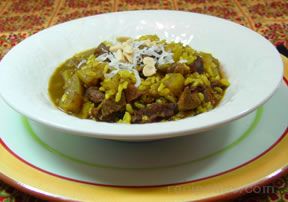 Directions
This recipe can be multiplied if you wish to serve more than two or want to save some for freezing. The proportions are suggestions that can be varied to suit your taste and ingredients.
Chop onion. Scrub or peel and chop apple. Cut meat into cubes, about 1/2 inch.
Heat oil, cook onion and apple until they soften, about 5 minutes. Stir in curry powder and meat, cook for another minute or 2.
Add broth, water, raisins and rice. Simmer, covered, until the rice is cooked, about 25 minutes for white rice or 45 minutes for brown rice.
Taste for seasoning; add salt, if necessary. Serve with any or all of the optional condiments. A full-flavored ale is a wonderful accompaniment.
Prep Time: 15 minutes
Cook Time: 45 minutes
Container: lidded skillet or wide sauce pan
Servings: 2
Serving Size: cup


Ingredients
-
2 tablespoons olive or canola oil
-
1 apple
-
1 onion
-
1 cup diced cooked meat
-
1 10 oz can of broth
-
2 teaspoons good curry powder, or to taste
-
1 cup water
-
2/3 cup uncooked rice, preferably brown
-
2 tablespoons raisins, preferably golden
-
optional condiments: bottled chutney, shredded coconut, chopped peanuts, grated apple