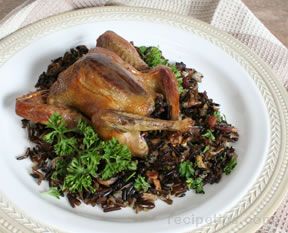 Directions
Preheat oven to 350°F.
In a small skillet, cook bacon until crisp and crumbled. Remove from pan.
Reserve drippings to sauté green onions and mushrooms until tender. Add sautéed vegetables and crumbled bacon to 3/4 cup of cooked wild rice and chopped parsley.
Lightly stuff squab with wild rice mixture. Truss legs with dental floss or cooking string.
Bake leftover wild rice mixture alongside the squab. Brush squab with olive oil before baking.
Bake about 45 minutes or until tender. Baste squab with wine 2 to 3 times while baking. Serve on a bed of rice.
Prep Time: 30 minutes
Cook Time: 45 minutes
Container: 2 quart baking dish
Servings: 2


Ingredients
-
2 squab
-
6 green onions, chopped
-
6 fresh mushrooms, chopped
-
2 slices bacon
-
2 cups cooked wild rice (divided)
-
2 tablespoons chopped fresh parsley
-
1/2 cup white wine