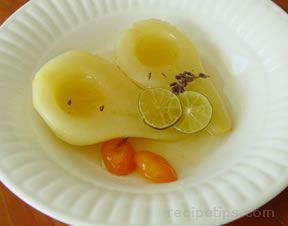 Directions
Peel pears, cut in half lengthwise, and remove cores.
In a non-reactive pan wide enough to hold pears in a single layer, heat wine and sugar until sugar dissolves. Arrange pears in a single layer, tucking citrus slices between pears, and simmer until pears are tender, about 10 - 15 minutes, depending on size and ripeness.
Remove pears to serving plates. Add lavender, if using, and boil wine and citrus until reduced by half or more, to a syrup. Spoon over pears and chill.
Prep Time: 10 minutes
Cook Time: 15 minutes
Servings: 4


Ingredients
-
4 small to medium pears, or 2 large ones
-
1 cup Chardonnay or other white wine
-
1/4 cup sugar
-
8 or more thin slices of citrus fruit (lime, lemon, kumquat - or a combination)
-
4 sprigs of lavender (optional)