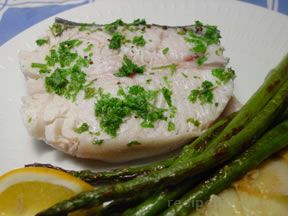 Directions
Put fillets in microwavable dish sized to hold fish snugly in a single layer. Add white wine just to cover fish. Chop parsley and scatter over fish. Grind a little pepper onto fish.
Cover and microwave on high for 4 minutes. Check for doneness--fish will be opaque and will flake easily with a fork when done. Cook for another minute, if necessary.
Remove from cooking liquid and serve hot, with lemon if desired. Salt to taste at table.
Prep Time: 5 minutes
Cook Time: 5 minutes
Container: microwavable dish with cover
Servings: 2


Ingredients
-
2 fillets, about 6 ounces each
-
dry white wine to cover fish, about 1 cup
-
1 tablespoon chopped parsley
-
freshly ground pepper
-
lemon slices (optional)