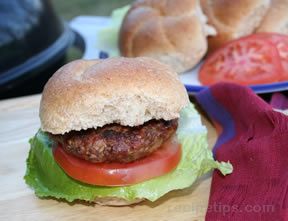 Directions
Wash your hands thoroughly. Mix ground beef and pork sausage in a large bowl with your hands. Add seasonings and mix in thoroughly.
Make burger patties by measuring a heaping 1/3 cup; then press together between hands or use a hamburger press.
Grill over hot coals or a pre-heated gas grill until done, approximately 15-19 minutes total time. Turn burgers once while grilling.
Serve on a bun and garnish with fresh tomato slices, lettuce leaves, thin slices of onion and pickles, and your favorite condiments.
Prep Time: 15 minutes
Cook Time: 15 minutes
Container: Large Bowl
Servings: 8


Ingredients
-
1 pound lean ground beef
-
1 pound pork sausage
-
2 tablespoons chopped onions
-
2 teaspoons garlic seasoning
-
3/4 teaspoon garlic pepper
-
1 teaspoon Worcestershire sauce
-
salt to taste
-
8 hamburger buns
-
1 large tomato, sliced thin
-
several leaves of lettuce
-
1 onion, sliced thin