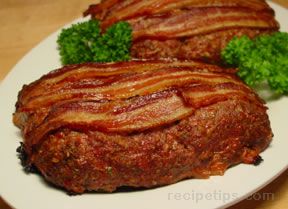 Directions
Preheat oven to 350°F.
The quickest way is to put everything ,except the meat, into a food processor and pulse until the onion is finely chopped. To make by hand, finely chop everything, except the meat, and mix well.
Add ground meat to mixture in food processor and pulse a few times to blend, or mix by hand.
On a lightly oiled rimmed baking sheet, form the meat mixture into 1 large or 2 smaller loaves. (The smaller loaves will cook more quickly and provide more browned surface.) If using bacon, drape slices over the top(s) of the loaves, or spread with ketchup or barbeque sauce.
Bake small loaves about 30 minutes, the larger one about 45 minutes. Serve warm. Leftovers make great sandwiches or freeze well.
Prep Time: 15 minutes
Cook Time: 30 minutes
Container: Baking sheet
Servings: 6
Serving Size: 2 slices


Ingredients
-
1 pound lean ground meat: beef, lamb, pork, venison (or a combination)
-
1 onion
-
1 egg
-
1/4 cup chopped parsley
-
1/2 cup bread crumbs (for a gluten-free version, crush 1 cup cornflakes to make 1/2 cup crumbs)
-
1/2 cup milk
-
1 teaspoon dried herbs (sage, thyme or oregano)
-
6 slices bacon (optional) or 1/4 cup ketchup or barbeque sauce
-
1 teaspoon salt and a few grindings of pepper