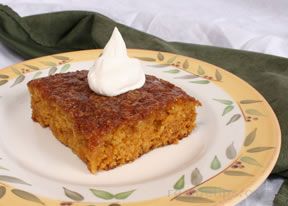 Directions
Preheat oven to 325ºF. Lightly spray pan with non-stick cooking spray.
Place all ingredients in a large mixing bowl. Beat for 3 minutes with an electric mixer.
Pour into prepared pan and bake for 30 minutes.
While the cake is baking, combine in a small saucepan over medium heat the ingredients for the topping. Bring to a boil. Boil for 1 minute. Pour hot topping on cake immediately after it is removed from the oven.
Serve warm or at room temperature. May garnish with whipped topping if desired.
Prep Time: 15 minutes
Cook Time: 45 minutes
Servings: 15


Ingredients
-
2 cups all purpose flour
-
2 cups white sugar
-
2 eggs
-
2 cans mandarin orange (11 oz. each), drained
-
2 teaspoons baking soda
-
2 teaspoons vanilla
-
1/2 teaspoon salt
-
TOPPING:
-
3/4 cup brown sugar, packed
-
3 tablespoons butter
-
3 tablespoons milk
-
1/2 teaspoon vanilla