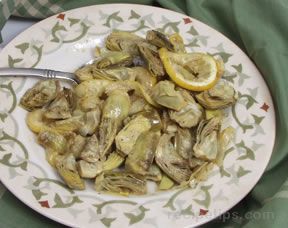 Directions
Preheat oven to 350°F.
Rinse artichokes well under cold water or dunk them repeatedly into water. Set aside a large bowl of cool water mixed with 1/4 cup of lemon juice. Drop the artichokes into the water as soon as you have trimmed them to prevent browning.
Cut the stems and the top 1/3 of each artichoke off. Pull back the leaves until they snap off. Continue to snap them off, turning as you go, until you have reached the pale yellow leaves. Cut the artichokes in half or quarters and place into the lemon water.
In the roasting pan, toss the baby artichokes with lemon slices, olive oil, garlic, salt and pepper. Cover with foil and roast until they are almost tender, approximately 20 minutes.
Uncover and stir, roast another 10-15 minutes or until the artichokes begin to brown.
Prep Time: 25 minutes
Cook Time: 45 minutes
Container: 9x12 roasting pan
Servings: 4


Ingredients
-
12 baby artichokes
-
1 lemon, sliced thin
-
1/4 cup olive oil
-
2 cloves garlic, peeled and chopped fine
-
salt and pepper to taste