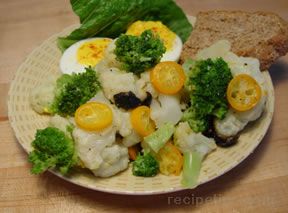 Directions
Bring 2 cups water to boil in a saucepan. Add kumquats, return water to boil and boil for about 30 seconds. Remove kumquats and cool in cold water. When cool enough to handle, slice into thin rounds, removing seeds.
If you're not using prepared dressing, mash or press garlic and mix well with olive oil, vinegar and salt.
Cook broccoli - cauliflower mix according to package directions. While vegetables cook, chop olives.
Drain vegetables, pour vinaigrette over, add olives and kumquats. Mix gently. Serve warm, room temperature, or cold.
Prep Time: 15 minutes
Cook Time: 15 minutes
Servings: 4


Ingredients
-
1 pound frozen mixed broccoli and cauliflower, or use fresh
-
4 ounces kumquats, about 10 - 12 (use more or fewer according to preference)
-
10 black olives, preferably Kalamata or other flavorful kind
-
prepare vinaigrette dressing: ( or use purchased vinaigrette )
-
1 clove garlic
-
3 tablespoons olive oil
-
1 tablespoon vinegar or lemon juice
-
1/2 teaspoon salt and a few grinds of pepper