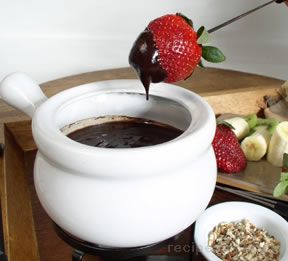 Directions
Chop chocolate with a sharp knife into small pieces.
Prepare double boiler over low heat. Add chocolate, cream, and coffee into top of double boiler, stir frequently until well blended and chocolate pieces are completely melted.
Remove from heat and stir in liqueur.
Light the container under fondue pot. Pour chocolate into fondue pot and have fondue forks available to dip fruits of your choice into the chocolate.
Prep Time: 15 minutes
Cook Time: 5 minutes
Container: Double boiler and fondue pot
Servings: 4


Ingredients
-
6 ounces semi-sweet dark chocolate - chopped
-
2 ounces unsweetnened chocolate - chopped
-
1/3 cup heavy cream
-
teaspoon instant espresso or coffee granules
-
2 tablespoons liqueur (Kahlua or your choice)
-
1/2 cup chopped nuts, if desired, for dipping
-
may use all semi-sweet or bittersweet chocolate if desired
-
fresh fruit, whole strawberries, large chunks of fruit: apples, pears, bananas, kiwi, etc