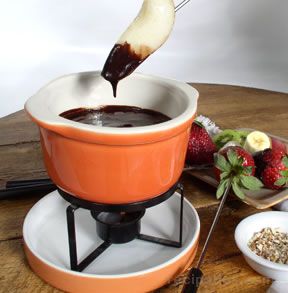 Directions
Chop chocolate into small pieces and place in the top pan of a double boiler on the stovetop over low heat. Add cream and stir until chocolate pieces have melted and the cream is stirred into the chocolate.
Remove from heat and stir in brandy.
Prepare food to be dipped such as slices of bananas, whole strawberries, sliced kiwi, pineapple pieces, sliced apples, small pieces of cake, or small cookies. Pour melted chocolate mixture into the fondue pot, light the burner, keep flame low.
Have forks, fruit, cookies or any other food items ready to use.
Prep Time: 15 minutes
Cook Time: 5 minutes
Container: Double boiler and fondue pot
Servings: 4


Ingredients
-
8 ounces bittersweet or semi-sweet chocolate
-
1/3 cup plus 1 tablespoon of heavy cream
-
2 tablespoons brandy
-
small cookies, cubes of cake, slices or whole pieces of fresh fruit