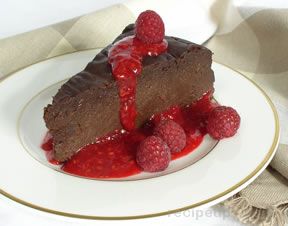 Directions
TORTE:
Preheat oven to 350 degrees F. Line the outside of the pan with aluminum foil; lightly grease the inside of pan and dust with cocoa powder.
In a heavy saucepan, combine butter, espresso, and sugar, stirring frequently until sugar dissolves; bring to a boil.
Place the chopped chocolate pieces in a large bowl and add the boiling chocolate mixture; then blend until smooth and chocolate is completely melted. Cool.
Add in the eggs, vanilla, and salt; beat until completely blended.
Pour into spring-form pan that has the outside sealed from any seepage. Place pan inside a larger pan. Pour about 2 inches of hot water into outside pan.
Bake for 60 minutes or until a tooth pick inserted in the center comes out fairly clean and the center of torte is set. Remove from water and cool.
Cover cooled cake and refrigerate 12 hours before serving.
RASPBERRY SAUCE:
Place frozen or fresh raspberries in a food processor with a steel blade and puree until smooth.
Add the corn syrup and liqueur, pulse until blended.
Chill and serve over cake.
Prep Time: 30 minutes
Cook Time: 1 hour
Container: 9 inch spring-form pan
Servings: 12
Serving Size: 1 slice


Ingredients
-
TORTE:
-
1 1/2 cups unsalted butter - cubed
-
3/4 cup espresso coffee
-
3/4 cup brown sugar, packed
-
15 ounces bittersweet chocolate squares, chopped
-
8 large eggs, lightly beaten
-
1 1/2 teaspoons vanilla
-
Pinch of salt
-
cocoa powder for dusting
-
RASPBERRY SAUCE:
-
16 ounces raspberries, frozen or fresh
-
1/3 cup corn syrup
-
1 tablespoon orange or raspberry flavored liqueur