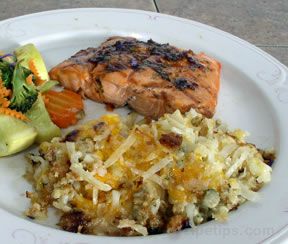 Directions
Preheat oven to 350º F.
In a large bowl, combine sour cream, soup, salt, butter, onions, thawed hash browns and cheddar cheese. Pour this mixture into a prepared baking dish and sprinkle with blue cheese crumbles.
In a small bowl, combine crushed corn flakes and melted butter. Sprinkle corn flake mixture over crumbled blue cheese.
Bake at 350º F for 45 to 50 minutes, uncovered.
Prep Time: 15 minutes
Cook Time: 45 minutes
Container: 7
Servings: 6


Ingredients
-
16 ounces hashbrowns, thawed
-
1 cup sour cream (light)
-
1 can (10.5 oz.) cream of chicken soup, undiluted
-
1/4 cup butter, softened
-
1/2 teaspoon salt
-
2 tablespoons onions, finely chopped
-
1 cup cheddar cheese, shredded
-
4 ounces blue cheese crumbles
-
1 cup corn flakes, crumbled
-
3 tablespoons butter, melted