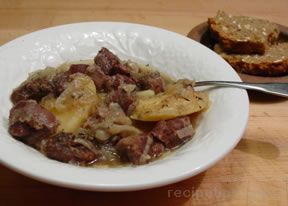 Directions
Preheat oven to 325°F. Peel the potatoes and slice crosswise, about 1/4 inch thick. Slice the onions about 1/4 inch thick. Trim as much fat as possible from the lamb and cut into cubes about 1 inch on a side.
Layer half of the potatoes in a Dutch oven or other 4 or 5 quart oven-proof container. Salt very lightly and add a few grindings of pepper. Layer half the onions over the potatoes and add the lamb. Salt the lamb lightly, and then add the rest of the onions followed by the rest of the potatoes and another sprinkling of salt and pepper. (Total salt added should be about 1 teaspoonful). Tuck a bay leaf down along the edge of the pot and sprinkle on the thyme. Add broth and/or water to barely cover the top layer.
Bring to a boil, cover, and put in preheated oven for 2 hours or until lamb is tender. If preferred, cook on stovetop at a low simmer instead of in the oven. If using stovetop, check occasionally to make sure liquid isn't cooking away; add water if necessary.
Prep Time: 15 minutes
Cook Time: 2 hours
Container: Dutch oven or lidded casserole, 4 to 5 quart
Servings: 4


Ingredients
-
1 pound cubed lamb: pre-cut stew meat, or meat from shoulder, shanks or neck
-
3 pounds potatoes
-
2 large onions
-
2 cups broth (or use all water)
-
1 teaspoon thyme
-
1 bay leaf
-
salt, pepper, water