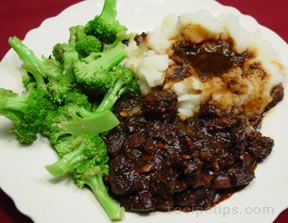 Directions
Trim off any excess fat and cut lamb into small cubes, about 3/4". Salt and pepper lightly. Finely dice the carrot, celery, onion and garlic.
Heat oil (medium-high) in Dutch oven or heavy saucepan with lid. Brown lamb in hot oil, in batches if necessary to prevent crowding. Remove meat, leaving browned bits. Let pan cool 1 minute, then add 1/2 cup water and stir to incorporate browned bits.
Add vegetables and cook, stirring, until the water has evaporated. Reduce heat to medium-low, sprinkle on the flour and rosemary and stir in. Add browned lamb and any accumulated juices. Add wine.
Adjust heat to maintain a simmer , cover, and cook 2 hours or until lamb is tender. Check occasionally to make sure there's enough liquid. Add water, if necessary, so there is about 1 cup of sauce when the meat is done. Taste for seasoning and serve with pasta, rice, or mashed potatoes.
Prep Time: 30 minutes
Cook Time: 2 hours
Servings: 4


Ingredients
-
1 1/2 pounds lamb stew meat, or make your own from the shoulder, neck or shank.
-
1 carrot
-
1 stalk celery
-
1 onion
-
4 garlic cloves, or more to taste
-
2 tablespoons flour
-
1 teaspoon dried rosemary, crumbled
-
2 cups dry red wine
-
salt and pepper