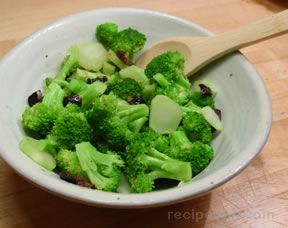 Directions
Peel the broccoli stalks and slice into thin coins. Divide the florets into pieces. If the olives have pits, remove them and chop olives coarsely. Press the garlic or mince very finely.
Put olive oil, garlic, lemon juice and olives into the bowl to be used for serving. Add a pinch of salt and several grindings of pepper and whisk together
Bring 2 cups water to a boil in a medium saucepan. Add 1/2 teaspoon salt and the sliced stalks. Cook for 2 minutes then add the florets. Cook 3 to 4 minutes more, until bright green and just tender - don't overcook. Drain well and add to serving bowl ; toss gently to coat broccoli with vinaigrette.
Prep Time: 15 minutes
Cook Time: 10 minutes
Servings: 4


Ingredients
-
1 bunch broccoli, about 1 1/2 lbs
-
3 tablespoons olive oil
-
1 tablespoon lemon juice or vinegar
-
1 clove garlic
-
12 large Kalamata or other flavorful olives
-
salt and pepper