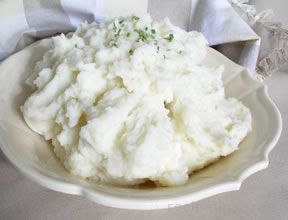 Directions
In a large sauce pan, place peeled potatoes and cover with water. Add approximately 1 teaspoon salt. Bring to a boil, then reduce heat to medium and cook until fork tender (about 15 to 20 minutes). Drain.
Put drained potatoes in a deep bowl, add melted butter and 1/4 cup of warm milk and mash with an electric beater until smooth. Add more milk and butter for desired consistency.
Salt and pepper to taste. Garnish with fresh herbs such as chopped chives, fresh chopped parsley, or add shredded cheddar cheese, if desired.
Prep Time: 15 minutes
Cook Time: 30 minutes
Servings: 4


Ingredients
-
2 pounds potatoes (russets) peeled, cut into large chuncks
-
1 teaspoon salt
-
water (cover potatoes with water)
-
3 tablespoons butter, melted (more if desired)
-
salt and pepper to taste
-
1/2 cup milk, warmed, more for desired consistency