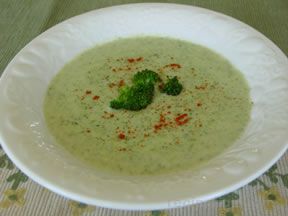 Directions
Dice onion. Peel and dice potatoes. Heat olive oil in a 3 or 4 quart saucepan over medium heat. Add onions and potatoes and stir frequently until onions are soft, about 5 minutes. Add 1 cup water, stir to get any browned bits up, and simmer for 10 minutes.
Meanwhile, separate the broccoli into florets (reserving a few for garnish), peel and dice the broccoli stems and add to the potato mixture. Add 2 cups milk and bring to a simmer. Cover and simmer until all vegetables are tender, but not mushy, about 10 minutes.
Cook the reserved broccoli pieces very briefly, 30 - 40 seconds (microwave or in a small pan with a tablespoon of water). This step is optional, but it will improve their color and flavor.
Add remaining cup of milk to cool the soup a bit, and purée it in batches.
Return to the pan, heat to serving temperature and taste for seasoning. Add salt and pepper to taste, ladle into bowls and garnish with reserved broccoli pieces and a sprinkle of paprika.
Prep Time: 15 minutes
Cook Time: 30 minutes
Servings: 4
Serving Size: 1 cup


Ingredients
-
1/2 pound broccoli
-
2 potatoes, medium size
-
1 onion
-
2 tablespoons olive oil
-
4 cups milk, preferably whole
-
water
-
salt and pepper
-
paprika