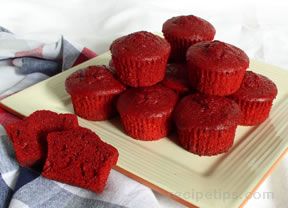 Directions
Preheat oven to 350°F.
In a large mixing bowl, combine dry cake mix, cocoa, 5 eggs, oil, buttermilk and red food coloring and beat approximately 2 minutes with an electric mixer.
Fill paper lined muffin tins evenly, approximately 2/3 full and bake according to directions on cake mix box.
When done, remove cup cakes from pan and cool on a wire rack. Garnish with frosting if desired.
Optional Frosting: beat together softened cream cheese and butter with powdered sugar and vanilla. Add milk slowly while mixer is on low speed until desired consistancy is achieved and frosting is creamy. Smooth on top of the cup cakes and serve.
Prep Time: 30 minutes
Cook Time: 15 minutes
Container: muffin pans and liners
Servings: 24


Ingredients
-
18 1/4 ounces yellow cake mix
-
2 tablespoons cocoa
-
5 large eggs
-
1/2 cup canola oil
-
1 cup butter milk
-
2 ounces red food coloring (two bottles)
-
3 ounces softened cream cheese
-
1/4 cup softened butter
-
2 cups confectioners sugar (powdered sugar)
-
1 teaspoon vanilla extract or almond extract
-
tablespoon milk