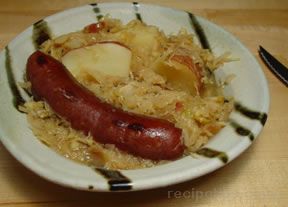 Directions
Prick the sausages in a few places and brown in a large heavy saucepan or skillet. Drain off all but 1 tablespoon of fat. If there is no fat, add 1 tablespoon butter.
While the sausages are browning, scrub, core and slice or dice the apple. Chop the onion. Add to the sausage and cook for about 5 minutes, stirring occasionally.
Rinse the sauerkraut, squeeze it dry, and add to the pan along with a bay leaf and a few grinds of pepper. Add the stock and wine (or beer).
Scrub the potatoes and cut into egg-sized pieces. Leave whole if they are small. Add potatoes to the pan, pushing them well down into the juice with the sausage on top. Bring to a boil, reduce heat, cover and simmer until the potatoes are tender, 20 - 30 minutes.
Remove bay leaf and serve in shallow bowls. Good with corn bread or crusty rye bread.
Prep Time: 15 minutes
Cook Time: 30 minutes
Servings: 4


Ingredients
-
1 pound Polish or other garlic-y sausage.
-
1 pound sauerkraut, fresh or canned
-
1 pound potatoes
-
1 onion
-
1 apple
-
2 cups stock or bouillon
-
1/2 cup dry wine, dark beer or more stock
-
1 bay leaf, or more if you prefer
-
pepper