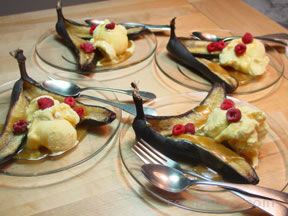 Directions
Preheat oven to 350F°.
Put the bananas (don't peel them) on a baking sheet into the preheated oven. Bake until soft and dark brown, about 15 - 20 minutes. Use the shorter time for riper bananas.
While the bananas bake, make the sauce. Heat together in a small pan the butter, milk and brown sugar. Bring to a full boil and cook without stirring until dark and shiny - about 5 minutes. When done, remove from heat, stir in the vanilla and set aside to cool. (Sauce can be made ahead).
When the bananas are done, remove from the oven, and cool enough to handle. Slice from tip to stem, leaving the halves joined at the stem end. Arrange on 4 plates. Put a scoop of ice cream in the space between the halves, drizzle the butterscotch sauce and the berries, if you are using them, over the ice cream. Best eaten while the bananas are still warm.
Prep Time: 15 minutes
Cook Time: 15 minutes
Servings: 4
Serving Size: 1


Ingredients
-
4 bananas
-
1/4 cup brown sugar
-
1/4 cup milk
-
2 tablespoons butter
-
1/2 teaspoon vanilla
-
1 pint vanilla ice cream
-
fresh berries for garnish (optional)