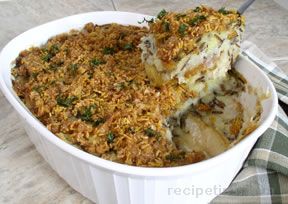 Directions
Preheat oven to 350° F.
Peel and cube parsnips. In a pan of lightly salted boiling water, cooking until tender, drain.
In a large bowl, combine milk, butter and cooked parsnips. Mash these ingredients, season to taste.
Stir in cooked wild rice and cover bottom of prepared baking dish with 1/2 of parsnip mixture. Layer pears and sprinkle them with brown sugar and nutmeg. Add the rest of parsnip mixture.
Crush cereal and combine with brown sugar, butter and fresh parsley. Sprinkle over top of baking dish. Bake for 40-45 minutes or until thoroughly heated.
Prep Time: 20 minutes
Cook Time: 45 minutes
Container: 2 quart serving dish, grease inside of dish
Servings: 8


Ingredients
-
parsnips, peeled, cubed and cooked
-
1/4 cup low-fat milk
-
1 tablespoon butter or margarine
-
salt and pepper to taste
-
1 1/2 cups wild rice, cooked
-
2 pears, peeled and sliced thin
-
2 tablespoons brown sugar, packed
-
1/4 teaspoon nutmeg - freshly ground
-
2 tablespoons brown sugar
-
2 tablespoons butter or margarine
-
2 tablespoons fresh parsley, chopped
-
1/2 cup corn flakes or crispix cereal, crushed