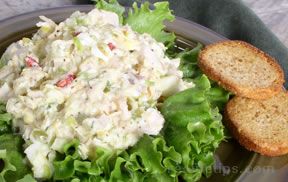 Directions
In a bowl, lightly toss together, chopped eggs, diced pickles, celery, leek, celery seed, parsley, roasted red peppers and turkey.
Add enough mayonnaise until desired consistency is achieved. Salt and pepper to taste.
Cover and chill 1-2 hours before serving.
Arrange large lettuce leaves on each plate and scoop at least 1 cup of turkey salad into leaf. Garnish as desired and serve.
Prep Time: 15 minutes
Container: medium bowl
Servings: 6


Ingredients
-
1 cup light mayonnaise or less
-
6 hard boiled eggs, chopped
-
1/2 cup bread and butter pickles, diced or sweet pickle relish
-
2 large stalks celery, diced
-
1/2 cup leek finely chopped (white and light green part)
-
1 tablespoon celery seed
-
2 tablespoons fresh parsley, chopped
-
3 tablespoons roasted red pepper strips, chopped
-
5 cups turkey or chicken, cooked and diced
-
salt and pepper to taste
-
large lettuce leaves