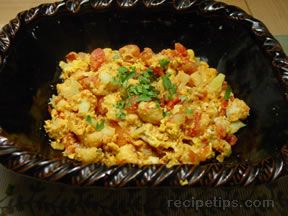 Directions
Divide the cauliflower into florets about 1 inch or a bit less, with a small length of stem left on each. Finely chop the onion and pepper. Mince the garlic. If using fresh tomatoes, dice them, keeping any juice they produce.
In a pan of lightly salted boiling water, cook the cauliflower 2 minutes, then drain and set aside.
Heat the oil in a skillet, preferably non-stick, and sauté the onions and peppers until they begin to soften. Add the garlic and cook, stirring, for about 1 minute. Stir in the tomatoes, cumin and turmeric and cook for about 5 minutes, until the juices begin to cook down.
Stir in the cauliflower. Beat the eggs well and stir in. Cook until eggs are set and cauliflower is the consistency you prefer - it should be a little resistant rather than mushy. Add salt and pepper to taste, garnish with parsley, if using, and serve hot.
Prep Time: 15 minutes
Cook Time: 15 minutes


Ingredients
-
3 cups cauliflower florets, about 1/2 an average head
-
1 onion
-
1/2 bell pepper
-
2 cloves garlic
-
14 ounces can of diced tomatoes, or 1 pound fresh
-
1/2 teaspoon turmeric
-
1/2 teaspoon ground cumin
-
3 eggs
-
oil for the pan, 2 or 3 tablespoons
-
salt and pepper
-
2 tablespoons chopped parsley (optional)