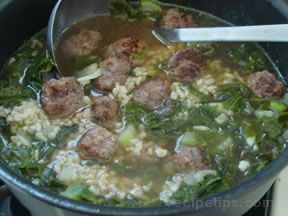 Directions
Cook rice in 1 1/2 cups water with 1/2 teaspoon salt until rice is just tender, about 45 minutes ( time will be less if using white rice; follow package directions).
If using frozen greens, set out to thaw. If using fresh greens, wash, trim off stems and chop coarsely. Chop the onion, slice the celery thinly and mince the garlic.
Make the meatballs: mix ground lamb with cardamom, 1 teaspoon salt, a few grinds of pepper and lemon zest, if using. Shape into approximately 24 small balls.
Lightly film a heavy saucepan with oil. Over medium heat, brown the meatballs and set aside. Pour off all but 1 tablespoon of fat, leaving any browned bits in the pan. Add the onions and celery and cook until the onions soften, about 5 minutes. Add garlic, 4 cups water, bay leaf, thyme, chopped greens and rice.
Simmer until rice and vegetables are tender. Correct seasoning and serve hot.
Prep Time: 45 minutes
Cook Time: 15 minutes
Container: 3 or 4 quart saucepan
Servings: 4


Ingredients
-
1/2 cup rice, preferably long grain brown, or use 1 1/2 cups cooked rice
-
1 pound ground lamb
-
1/2 teaspoon cardamom
-
1 teaspoon lemon zest (optional)
-
1 package frozen greens (spinach, chard etc) or use about 1 pound fresh greens
-
1 medium onion
-
2 stalks celery
-
2 cloves garlic, or more if desired
-
1 teaspoon thyme, crumbled
-
1 bay leaf
-
water, oil for pan, salt and pepper