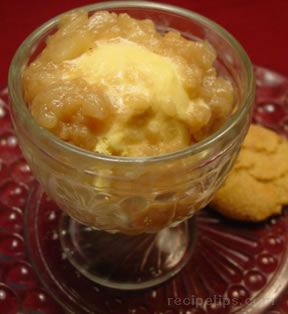 Directions
Peel, core and chop pears. Melt butter in a saucepan and allow to brown slightly. Watch carefully so that it doesn't burn. Add the chopped pears, stir and cook for several minutes.
Add water, brown sugar, lemon juice, zest and ginger. Cover and cook over low heat until pears are very soft.
Mash with a fork or purée in a blender. Serve warm or cold.
Prep Time: 15 minutes
Cook Time: 15 minutes


Ingredients
-
1 tablespoon butter
-
2 ripe pears
-
1/2 cup water
-
2 tablespoons brown sugar
-
1 tablespoon lemon juice
-
1 teaspoon lemon zest
-
1 teaspoon ginger