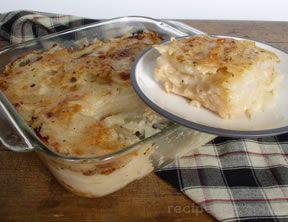 Directions
Preheat oven to 375° F. Coat baking dish with vegetable spray.
Peel potatoes and slice very thin. Place approximately 1/3 of potatoes in prepared baking dish. Sprinkle with half the flour and half the salt and pepper. Repeat layers.
Heat milk in small pan until hot; do not boil. Pour over potatoes and dot with butter. Cover dish and bake 45-50 minutes. Remove cover and continue baking uncovered for 15-20 minutes more or until potatoes are tender.
Optional: If cheese is to be added, spread shredded cheese over top of potatoes during last 15 to 20 minutes of baking while cover is removed.
Prep Time: 15 minutes
Cook Time: 1 minute
Container: 2-3 quart baking dish, greased
Servings: 8
Serving Size: 1 cup


Ingredients
-
8 large baking potatoes
-
3 tablespoons all purpose flour
-
1 teaspoon salt
-
1/4 teaspoon black pepper, freshly ground
-
3 tablespoons butter or margarine
-
2 cups milk, heated
-
1/4 cup onion, diced fine
-
1 cup optional: sharp cheddar cheese, shredded