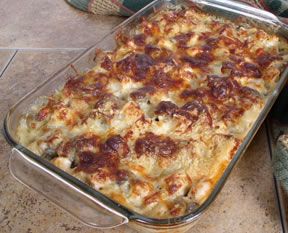 Directions
Preheat oven to 350°F. Grease 2 quart baking dish.
Cook spaghetti according to package directions. Drain and keep hot.
In a heavy skillet, saute mushrooms and garlic in 2 tablespoons of butter. Remove from heat and set aside.
In the same skillet, melt 1/4 cup of butter over medium low heat.
Add flour, salt and pepper to melted butter and whisk until smooth.
Gradually add chicken broth to skillet mixture, Stirring constantly. Bring mixture to a boil, stirring constantly. Boil for 1 minute.
Reduce heat and cook until slightly thickened.
Remove from heat. Stir in milk, sherry and Worcestershire sauce.
Combine cooked spaghetti, mushrooms, turkey and mozzarella cheese. Pour into prepared baking dish. Sprinkle with Parmesan cheese. Bake for 30 minutes or until lightly browned.
Container: 2 quart baking dish
Servings: 6


Ingredients
-
8 ounces thin spaghetti
-
2 tablespoons butter
-
8 ounces fresh mushrooms
-
1/4 cup all purpose flour
-
1/4 cup butter
-
1 teaspoon salt
-
1 pinch black pepper
-
1 pinch cayenne pepper
-
1 teaspoon Worcestershire sauce
-
1 clove garlic, chopped fine
-
2 cups chicken broth or stock
-
3 tablespoons cooking sherry (adjust to taste)
-
1/3 cup milk
-
2 cups cooked turkey (or chicken), cubed
-
1/2 cup Parmesan cheese, grated
-
1/2 cup Mozzarella (or Swiss) cheese, shredded