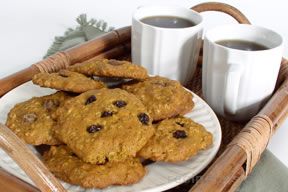 Directions
Preheat oven to 350ºF. Grease cookie sheets.
In a large bowl, cream together sugars and butter until light yellow and fluffy. Beat in pumpkin, vanilla and egg.
Mix dry ingredients together in a separate bowl. Add to pumpkin mixture. Stir in raisins, nuts and chocolate chips, if desired.
On a prepared cookie sheet, drop 1 heaping tablespoon of mixture per cookie. Bake 14-15 minutes or until lightly browned.
Remove from oven. Cool on racks for 5 minutes before removing from cookie sheet. Glaze, if desired.
GLAZE: Whisk together powdered sugar, milk and vanilla until smooth. Drizzle over cookies. Store in air tight container.
Prep Time: 20 minutes
Cook Time: 15 minutes


Ingredients
-
1 cup butter softened
-
1 cup white sugar
-
1 cup brown sugar, packed
-
1 egg
-
1 teaspoon vanilla
-
1 cup pumpkin or squash, cooked
-
1 1/3 cups rolled oats
-
1 teaspoon baking soda
-
1 teaspoon cinnamon
-
1/2 teaspoon salt
-
2 cups all purpose flour
-
1 cup raisins
-
1/2 cup chocolate chips (optional)
-
1/2 cup nuts (optional)
-
GLAZE (optional):
-
1 cup powdered sugar
-
1 teaspoon (to 2 teaspoons) milk
-
1 teaspoon vanilla