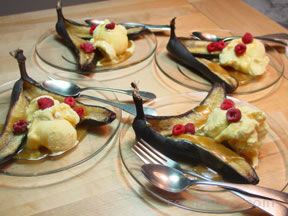 Directions
Preheat oven to 350°. Do not peel bananas. Put them on a baking sheet or other oven-proof container and bake 20 minutes. Bananas should be soft and very dark when done.
While the bananas bake, make the sauce. In a small saucepan, bring water, salt and brown sugar to a boil. Add cream and cook 5 minutes.
Do not peel the baked bananas. Slice them lengthways, leaving the halves attached at the stem end and arrange on serving plates. Add a scoop of ice cream to each plate and drizzle warm sauce over. Garnish, if you wish, with a few berries or shavings of chocolate. Serve immediately.
Prep Time: 15 minutes
Cook Time: 15 minutes
Servings: 4


Ingredients
-
4 bananas, ripe but not soft
-
1/2 cup brown sugar
-
1/4 cup water
-
1/3 cup cream
-
pinch salt
-
1 pint vanilla ice cream
-
12 raspberries or other berries, for garnish (optional)