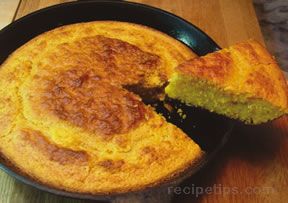 Directions
Pre-heat oven to 425°. If using a cast iron skillet, put it into the oven to pre-heat. Put a piece of foil or some other oven-proof material on the handle as a reminder not to touch it without a potholder. If using a different container, wait until a few minutes before the batter is ready to pre-heat.
Sour the milk: add 2 tablespoons of vinegar to the milk and set aside.
In a mixing bowl, beat the eggs well. Add oil or melted butter and the sugar or honey. In a separate bowl, stir the Masa Harina De Maiz, cornmeal, salt, soda and baking powder together. Add the soured milk to the eggs, mix well, and stir in the dry ingredients and mix lightly.
Remove the hot skillet from the oven, add oil or butter to coat the pan and pour in the batter. Return to oven and bake until set and golden brown, 20-25 minutes. Serve warm or room temperature, with butter, applesauce, or syrup.
Prep Time: 15 minutes
Cook Time: 30 minutes
Container: heavy oven-proof 10" skillet or 8 x 8" baking dish
Servings: 8


Ingredients
-
2 cups milk
-
2 tablespoons vinegar
-
1 cup Masa Harina De Maiz
-
3/4 cup cornmeal
-
2 eggs
-
2 tablespoons oil or melted butter, plus more for the pan
-
1 tablespoon honey or sugar
-
1 teaspoon salt
-
1 teaspoon baking powder
-
1 teaspoon baking soda